Eaton Rapids

High School




Class Of 1969
Welcome to the Eaton Rapids High Class Of 1969 web site! If it is your first time on this site I have entered the names and "my" current addresses of all of our classmates. Each of you can access to the site at no cost to you (only the class). You will be asked to create a user name and a password so you can sign in each time. Click on your name to update your profile. Sorry if I have some wrong addresses as it has been 5 years since we have updated. Once you have signed in and updated your profile you can view others. If you have any information about others, any new or old information, pictures, Obits, etc. you will have to send me a message on my profile, as I am the designated administrator of the site and can change, add, or delete information. That way we can verify all the information that we pass on.
I hope this class site is a fun, informative, and an inexpensive way to keep track of each other in the class of '69. Please pass the web address on to others so we can get it going. Enjoy ! Vicki K. (Reese) Ellsworth, Class President
ANNOUNCEMENTS
If anyone of you has an idea for our 50 th reunion please share it with all of us ! We will start planning in a year or so... we will let you know when and where meetings are so anyone who wants to help is greatly encouraged !
We have had our first meeting to start the planning of our 50th claas reunion. We need to update everyones addresses to ensure all classmates get information. You can send to me at vellsw2071@comcast.net. or call 517.663.1534 or call/text to 517.574.3461. Or I am on facebook messaging. Our next meeting is on October 2, 2017 at Darb's in ER at noon. Thank you all for you input and help to make our 50th successful ! Vicki
ERHS CLASS OF 1969 50TH REUNION will be on Saturday, August 24, 2019. We will have the entire Miller Farms Historical Site to enjoy and tour during the day and in the evening a buffet will be served in the upper part of the historical barn. Hope to see everyone there !
o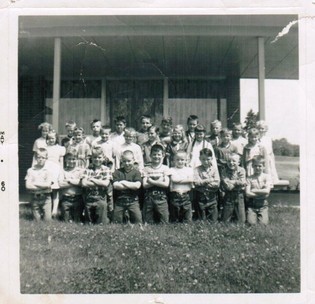 Old Picture from Cathy Cleeves Cook's collection !
VFW Reunion 2009